Model NO.: LSR Color: Translucence Mold: LSR Injection Mold Tool Working Temperature: -40c~230c Materials Grade: FDA Medical Grade Specification: diameter: 6mm, 11mm, 16mm, 44mm HS Code: 3926901000 Hardness: 5-30 Shore a Materials: LSR/Silicone Usage: for Medical Resuscitation OEM: Services Trademark: Better Origin: Xiamen, China Overmolding LSR Injection Duckbill Check Valve ,LSR Duckbill Valve for Medical Parts
LSR Duckbill Valves are unique, onepiece, elastomeric components that act as backflow 
prevention devices or oneway valves or check valves. They have elastomeric lips in the shape of a duckbill which prevent backflow and allow forward flow.  
The main advantage of LSR Duckbill Valves over 
Other
 types of oneway valves is that 
LSR Duckbill Valves are self contained i.e. the critical sealing function is an integral part of 
the one piece elastomeric component as opposed to valves where a sealing element has to engage with a smooth seat surface to form a seal.  
Therefore LSR Duckbill Valves are easily incorporated and assembled into a wide variety of 
devices without the hassle or problems associated with the surface finish quality of mating seats and/or complex assembly processes. 
LSR Duckbill Valve, mostly used in the Patient Valve for
Manual Resuscitator
.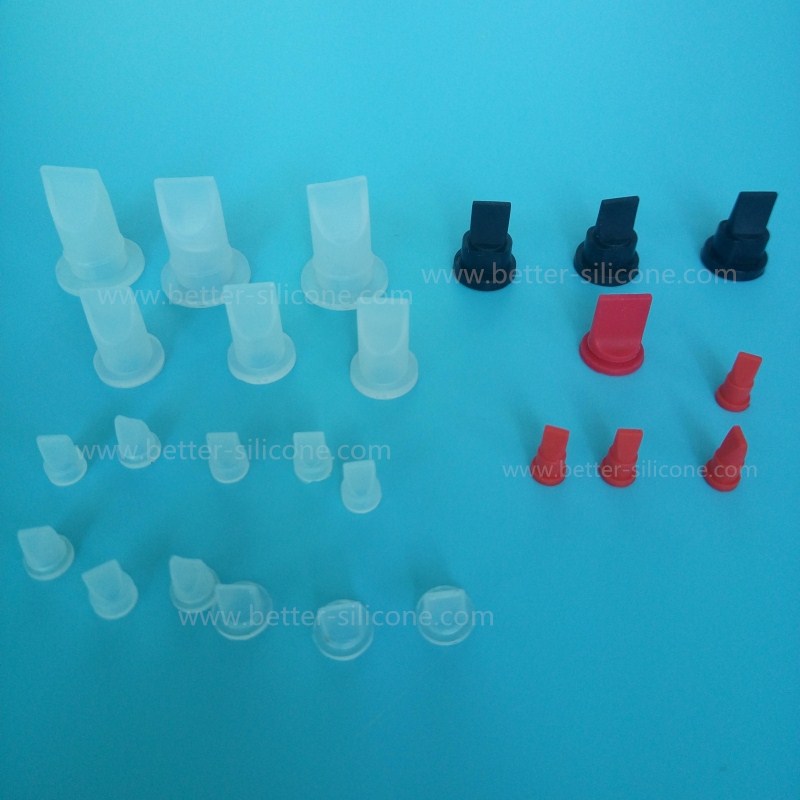 Process The
LSR Molding
process starts with proper part design. Anyone familiar with designing parts for injection molding should find designing an LSR part to be similar. However, the shrink rate on LSR is fairly high, and the material also tends to flash very easily during molding. Protomold helps mitigate challenges related to high shrink rates by planning appropriate tolerances and incorporating additional features into the mold design to help reduce flash. LSR typically fills thin wall sections with minimal challenges and is accommodating to variations in wall sections as sink is almost nonexistent.
 Mold production When an order is placed, Proto Labs will then design an LSR molding tool. Due to the flexible nature of LSR, parts are manually removed from the mold, and thus, ejector pins are not built into the mold design. Like a standard Protomold aluminum tool, an LSR molding tool is fabricated using a combination of CNC milling and CNC electrical-discharge machining (EDM) to create a high-temperature aluminum tool built to withstand the LSR molding process. After milling, the tool is polished by hand to customer specifications, which allows six standard surface finish options: PM-F0, PM-F1, SP-C1, PM-T1, PM-T2 or SPI-A2. Others may be available by request.
 Part production The finished tool is loaded into an advanced LSR-specific injection-molding press that is precision geared for accurate control of shot size to produce the most consistent liquid silicone rubber parts. LSR molding shares many similarities with conventional injection molding, but there are a few notable differences. Unlike thermoplastic resin, which is melted before injection, LSR is a two-part thermoset compound that is chilled before being injected into a heated mold and ultimately cured into a final part. Note that Protomold uses an automated meter mixing pump to assure the exact combination of the two-part compound; nothing is hand mixed. Since LSR is a thermosetting polymer, its molded state is permanent - once it is set, it can't be melted again like a thermoplastic. 
Liquid silicone rubber is a free-flowing, shear thinning thermoset material that injects easily into a mold and is less prone to many defects like sink as compared to typical thermoplastic materials. However, LSR flashes extremely easily and into gaps as small as 0.0002 in. When designing a part for LSR, you should keep in mind best practices for tooling of standard plastic molds. Though the materials are different, the molds are constructed in a similar fashion.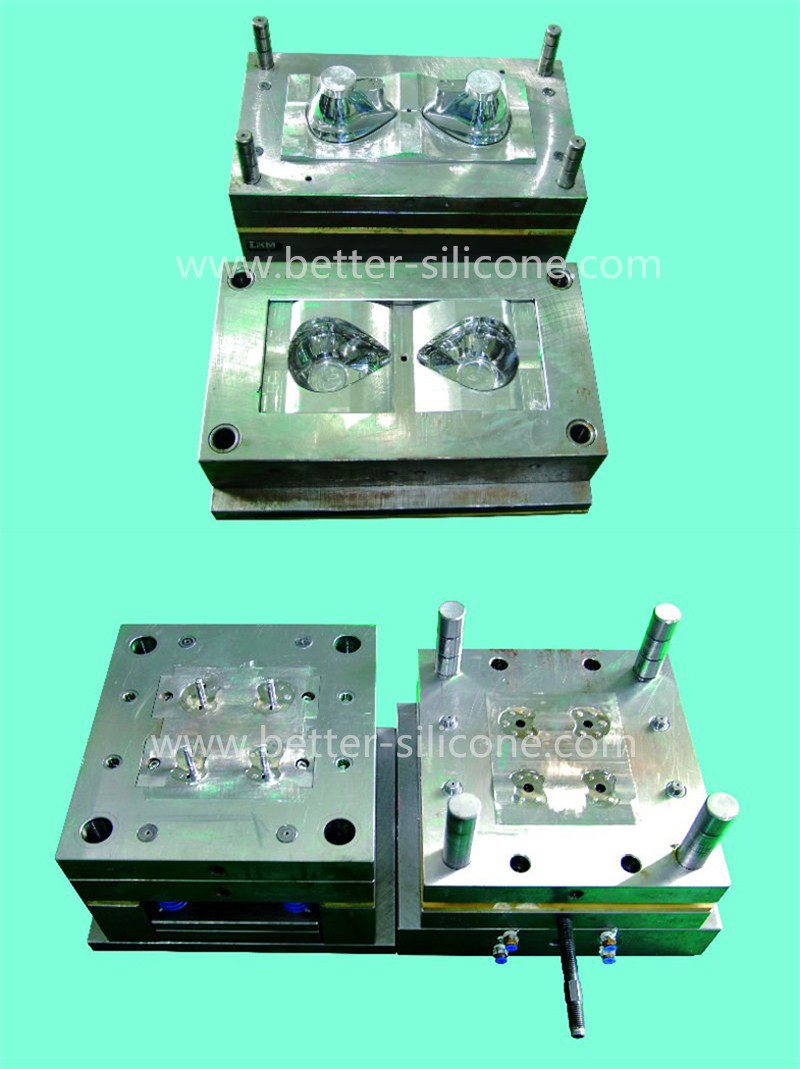 Product Scope: 
1)  Liquid silicone medical part, as like the capsule, laryngeal mask capsule, oxygen mask, protective mast,  catheter, balloon, medical belt etc. 
2)  Liquid silicone auto parts,
Silicone Valve
, O-ring, sealing part. 
3)  Liquid silicone electronics and industrial product, such as the watchband, mobile
Phone Case
. 
4) LSR products, which can be with the insert, as like the plastic part, steel part etc. As sample: silicone  diving mask, electric silicone drum Stick, silicone handle, silicone vibrators etc.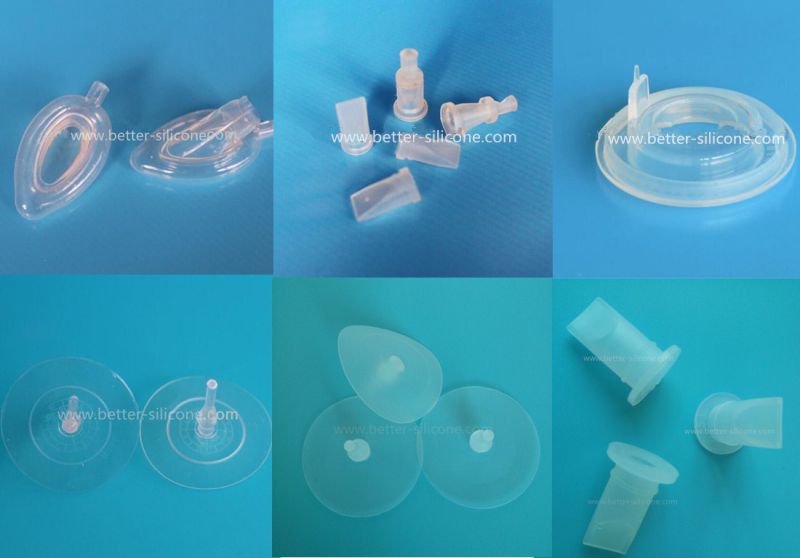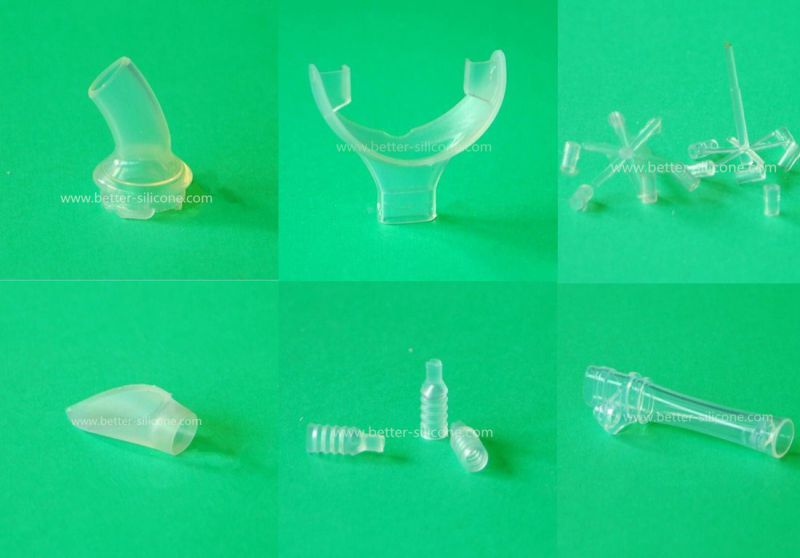 How to distinguish liquid silicone rubber and solid silicone rubber : 
Silicone rubber can be divided into two types according to the form of existence, liquid silicone rubber and solid silicone rubber.
Because of different forms of existence, they have distinct physical performances, which also results in significant differences in application. This article will discuss the differences between the liquid silicone rubber and solid silicone rubber. 
1.Vulcanized silicone rubber products and mixed silicone rubber are solid.
   1)The solid silicone rubber we mention here is mixed silicone rubber, which is also known as high-temperature silicone rubber.
    2)This kind of silicone rubber can only be completely vulcanized in high temperature no matter which kinds of vulcanizing agent is used in order to get the ideal physical performance.
    3)Solid silicone rubber can be made into all kinds of silicone products after vulcanization, which generally have good physical properties. Solid           
    4)Silicone rubber can reach food grade standard by FDA approval after two-times vulcanization process.
    5)Thus, solid silicone rubber can be applied in both industry and foodstuff.  
  2.LSR has more variety, and it is liquid because it is made of original organic silicone material.
     1)Owing to the sulfur of movement, LSR is easier to form, so it can be easily made into mould used to copy product, which is what solid silicone  rubber unable to meet.
     2)Moreover, it can also be made into adhesive being adhered to a variety of materials.
     3)The majority of LSR can be vulcanized at room temperature.
     4)LSR can be divided into condensed type and addition type according to the reaction types.
        The former generally can not reach the food grade standard while the latter can do.
        Therefore, addition type LSR is used in all walks of life because of its very good physical properties.
Our Advantages
1. Precision Mold-Making Technology (Since 1998)
2. Competitive Price: Origin Manufacturer.
3. Five experienced designers: offer technology/production/design/artwork support etc.
4. Production and Test strictly according to ISO9001.
5. Complete Production Plant, Equipment, Environment
Our Equipment:
1. Five Plants: Mold-Making, Silicone Rubber Compressive, Plastic Injection, LSR 
Injection, and Assembly Plants.
2. MoldMaking Equipment: CNC, Mirror EDM, EDM, Slowspeed Wire Cut M/C and other auxiliary equipment etc.
3. Production Equipment: 15 Sets Rubber Compressive Machines, 8 Sets Haitian Plastic Injection Machines, 2 Sets LSR Injection Machines.
4. Test Equipment: 3D Projectors, Sealing Testor, Elasticity Measurement, Durometer etc.
5. Dustfree Environment: LSR injection Machines, 3 Sets Rubber Compressive Machines, and Assembly Line in 100,000 rating Dust-free Plants.
6. Fast-reaction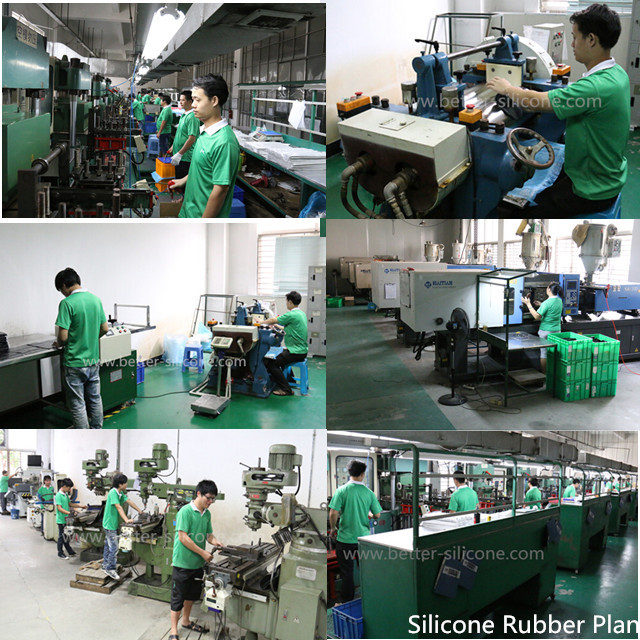 Contact us if you need more details on Duckbill Check Valve. We are ready to answer your questions on packaging, logistics, certification or any other aspects about Duckbill Valve、LSR Duckbill Valve. If these products fail to match your need, please contact us and we would like to provide relevant information.
Product Categories : LSR Injection Parts